Tout ce que vous devez savoir sur le Prism Award 2021 de l'ICF Belgium !
Les nominations pour le Prism Award 2021 de l'ICF Belgium sont ouvertes. La date limite de dépôt des candidatures est fixée au 15 novembre 2021, à 12 heures.
Si vous êtes un coach certifié ICF ou un professionnel des RH ou du développement des talents et que vous souhaitez nommer votre organisation pour le Prism Award d'ICF Belgium, inscrivez-vous dès maintenant à notre session d'information. Rejoignez-nous le 21 septembre 2021 à 12h15 pour en savoir plus sur le processus de nomination du Prism Award d'ICF Belgium 2021 et découvrir des stratégies pour préparer une nomination réussie.
Nous prendrons le temps de répondre à toutes vos questions ! Qu'elles soient en Français en Néerlandais ou en Anglais.
---
Alles wat u moet weten over de ICF Belgium Prism Award 2021!
De nominaties voor de ICF Belgium Prism Award 2021 zijn geopend. De nominatie deadline is 15 november 2021, om 12 uur 's middags.
Als u een ICF-gecertificeerde coach bent of een HR- of talentontwikkelingsprofessional die het voortouw wil nemen bij de Prism-nominatie van uw organisatie, schrijf u dan nu in voor onze infosessie. Kom 21 september 2021 om 12:15 uur bij ons langs om meer te leren over het 2021 ICF Belgium Prism nominatieproces en ontdek strategieën voor het voorbereiden van een succesvolle nominatie.
We maken tijd om al je vragen te beantwoorden! In het Nederlands, Frans of Engels.
---
Everything you need to know about the ICF Belgium Prism Award 2021!
The nominations for the 2021 ICF Belgium Prism Award are open. The nomination deadline will be November 15 2021, at 12 p.m.
If you are an ICF-credentialed coach or an HR or talent development professional who wants to spearhead your organization's Prism nomination, register now for our Info session. Join us September 21, 2021, at 12:15p.m. to learn more about the 2021 ICF Belgium Prism nomination process and discover strategies for preparing a successful nomination.
We make time to answer all your questions!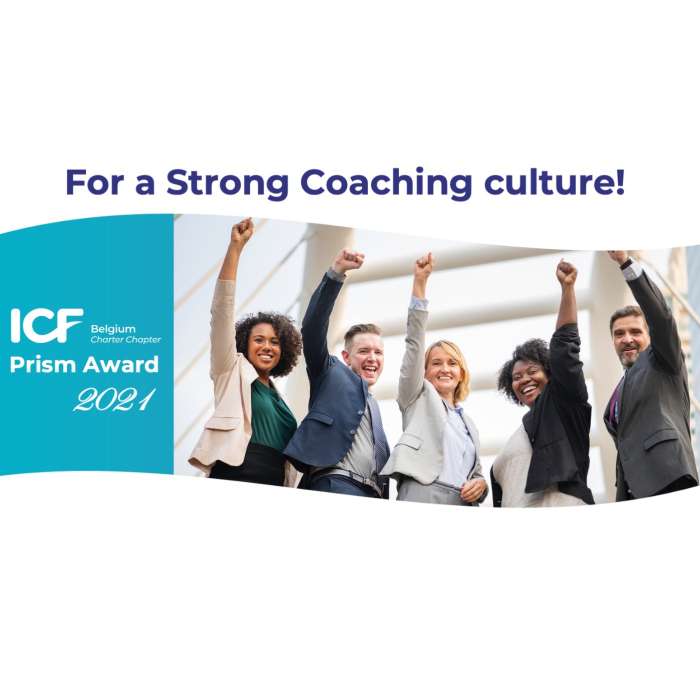 ICF Belgium
Virtual (webinar)
Presented by Gaëtane Lenain
---
When? On Sep 21, 2021
From 12:15 to 13:00
Price : Free
Go to the subscription website